Bugle Call
Poetry Month in the Heart of the Civil War: Literary Connections Abound
April 15, 2015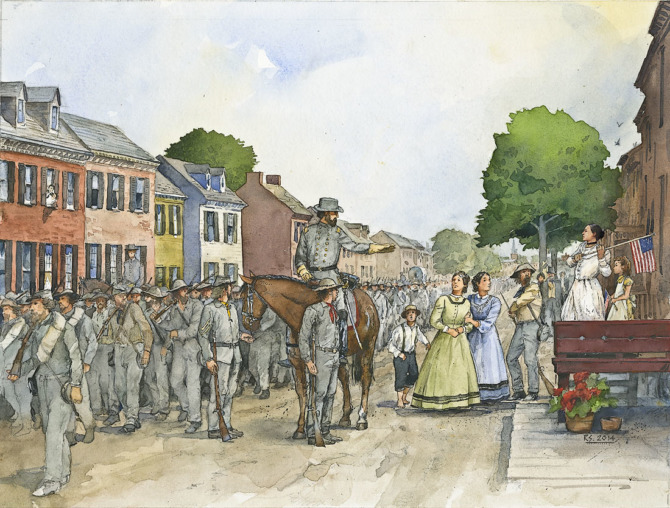 The old adage "the pen is mightier than the sword" holds meaning for several events and personalities tied to the Heart of the Civil War. Civil War poetry and reporting, plus future works of wartime participants, have roots within the Heritage Area.
John Greenleaf Whittier's 1863 poem "The Ballad of Barbara Fritchie" had a positive impact on Union re-enlistment and would become known worldwide after the war. The tale put Frederick on the map, based on supposed patriotic displays made by an elderly local citizen amidst the 1862 Confederate invasion and occupation. Today, visitors can see the Barbara Fritchie House or read about other flag-waving women (such as Mary Quantrill, pictured above) of the area on a new interpretive marker at McCaskill Financial, 220 W. Patrick Street in Frederick.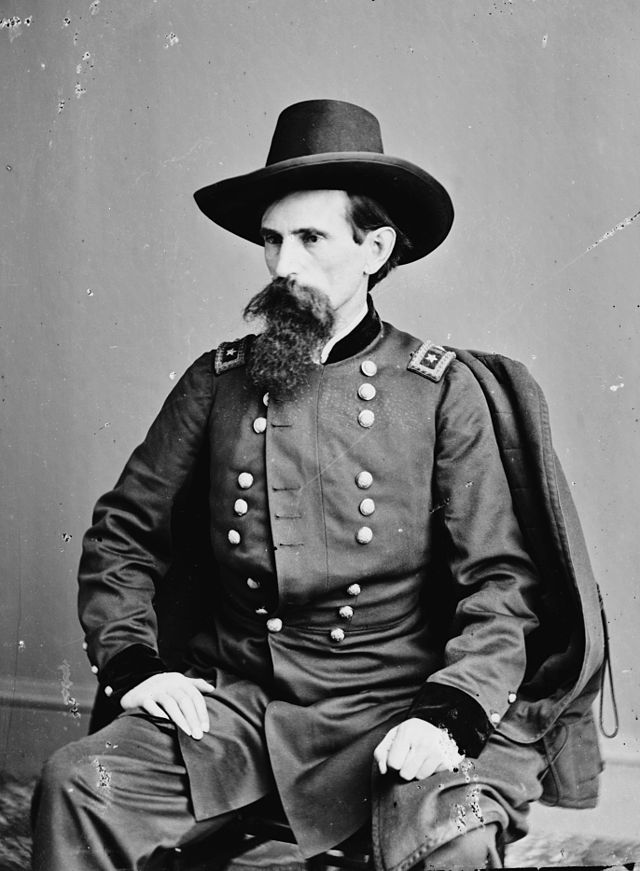 With fame already won by his legendary stand at the 1864 Battle of Monocacy, General Lew Wallace would gain lasting remembrance by authoring Wallace's Ben-Hur: a Tale of Christ, a biblical-inspired novel published in 1880. Ben Hur was completed while Wallace served as territorial governor of New Mexico. After becoming a best-selling book, it was adapted to the stage as well as an epic motion picture. Some of Wallace's personal effects are on display at Monocacy National Battlefield.
Henry Kyd Douglas, who served along General Thomas "Stonewall" Jackson during the Maryland Campaign, had a successful postwar legal career in Hagerstown. He was instrumental in creating Rose Hill Cemetery, a Confederate burying ground where battlefield remains of southern troops were re-interred. Douglas' memoir of his wartime experiences would debut in 1940 entitled, I Rode with Stonewall. Ferry Hill Plantation, the Douglas family home in Sharpsburg, is now part of the Chesapeake and Ohio Canal National Historical Park.
In April 1865, Westminster newspaper editor Joseph Shaw had his presses wrecked and his business destroyed. The editor of the Western Maryland Democrat was an outspoken southern sympathizer and had been among the group of citizens arrested and detained earlier in August 1862. After the destruction of his office, Shaw was subsequently stabbed in the left armpit and left to bleed to death on the tavern floor of Zachariah's Hotel on Anchor Street. The violent act was allegedly a result of an anti-Lincoln editorial that was published the week before the assassination. In the trial at the Westminster Court House, four men were acquitted for Shaw's death on account of "self-defense." To learn the whole story, make a trip to the Civil War exhibit now on display at the Historical Society of Carroll County.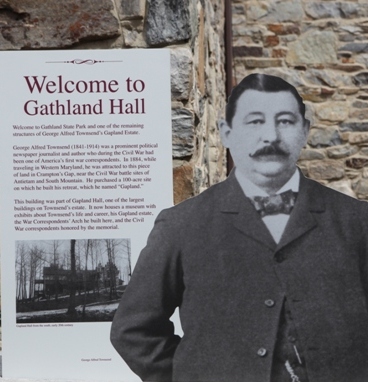 A more fortunate newspaper man was George Alfred Townsend, a reporting correspondent during the war and later novelist. He wrote under the pen name "Gath" and would become a noted journalist covering the Lincoln assassination. In 1884, he returned to one of the most heated local battlefields: Crampton's Gap at South Mountain, where he built a fine estate named Gathland. In 1896, Townsend erected a lasting monument to Civil War era writers and artists in the form of the War Correspondents Arch. Visitors to Gathland State Park can enjoy at this architectural marvel while hiking the Appalachian Trail.
Images (top to bottom):
Original artwork by Richard Schlecht created for a new interpretive marker, "Mary Quantrill's Stand," a depiction of the event that occurred on W. Patrick St. on the morning of September 10, 1862.
Union General Lew Wallace, photographed by Matthew Brady. From the Library of Congress Prints and Photographs Division, Brady-Handy Photograph Collection.
A lifesize cutout of George Alfred Townsend greets visitors at Gathland State Park.