Heart of the Civil War GeoTrail
eyJwcm92aWRlcl91cmwiOiJodHRwczpcL1wvd3d3LnlvdXR1YmUuY29tXC8iLCJhdXRob3JfbmFtZSI6Ikdlb2NhY2hpbmciLCJwcm92aWRlcl9uYW1lIjoiWW91VHViZSIsImhlaWdodCI6MzYwLCJ0aHVtYm5haWxfd2lkdGgiOjQ4MCwiYXV0aG9yX3VybCI6Imh0dHBzOlwvXC93d3cueW91dHViZS5jb21cL3VzZXJcL0dvR2VvY2FjaGluZyIsInRodW1ibmFpbF9oZWlnaHQiOjM2MCwidmVyc2lvbiI6IjEuMCIsIndpZHRoIjo2NDAsInRpdGxlIjoiV2hhdCBpcyBHZW9jYWNoaW5nPyIsImh0bWwiOiI8aWZyYW1lIHdpZHRoPVwiNjQwXCIgaGVpZ2h0PVwiMzYwXCIgc3JjPVwiaHR0cHM6XC9cL3d3dy55b3V0dWJlLmNvbVwvZW1iZWRcLzFZVHFpdFZLLVRzP2ZlYXR1cmU9b2VtYmVkXCIgZnJhbWVib3JkZXI9XCIwXCIgYWxsb3dmdWxsc2NyZWVuPjxcL2lmcmFtZT4iLCJ0aHVtYm5haWxfdXJsIjoiaHR0cHM6XC9cL2kueXRpbWcuY29tXC92aVwvMVlUcWl0VkstVHNcL2hxZGVmYXVsdC5qcGciLCJ0eXBlIjoidmlkZW8iLCJvcmlnaW5hbFVybCI6Imh0dHBzOlwvXC93d3cueW91dHViZS5jb21cL3dhdGNoP3Y9MVlUcWl0VkstVHMiLCJvcmlnaW5hbFdpZHRoIjo2NDAsIm9yaWdpbmFsSGVpZ2h0IjozNjB9
About the GeoTrail
The Heart of the Civil War Heritage Area GeoTrail takes geocachers through three counties in Maryland that saw major moments of the Civil War. Highlighting battlefields, museums, historic city centers and other significant sites in Carroll, Frederick, and Washington Counties, the trail is a fun and educational activity for geocachers of all experience levels. In 2021 we added new sites to the Geotrail with the help of volunteers from the Maryland Geocaching Society.
An exciting addition to the trail in 2021 is the Adventure Lab: participants can take on the role of a Civil War correspondent hot on the trail of a Confederate spy. Players must solve puzzles and collect information along the trail in all three counties in order to identify the spy and complete the Adventure Lab.
How to Participate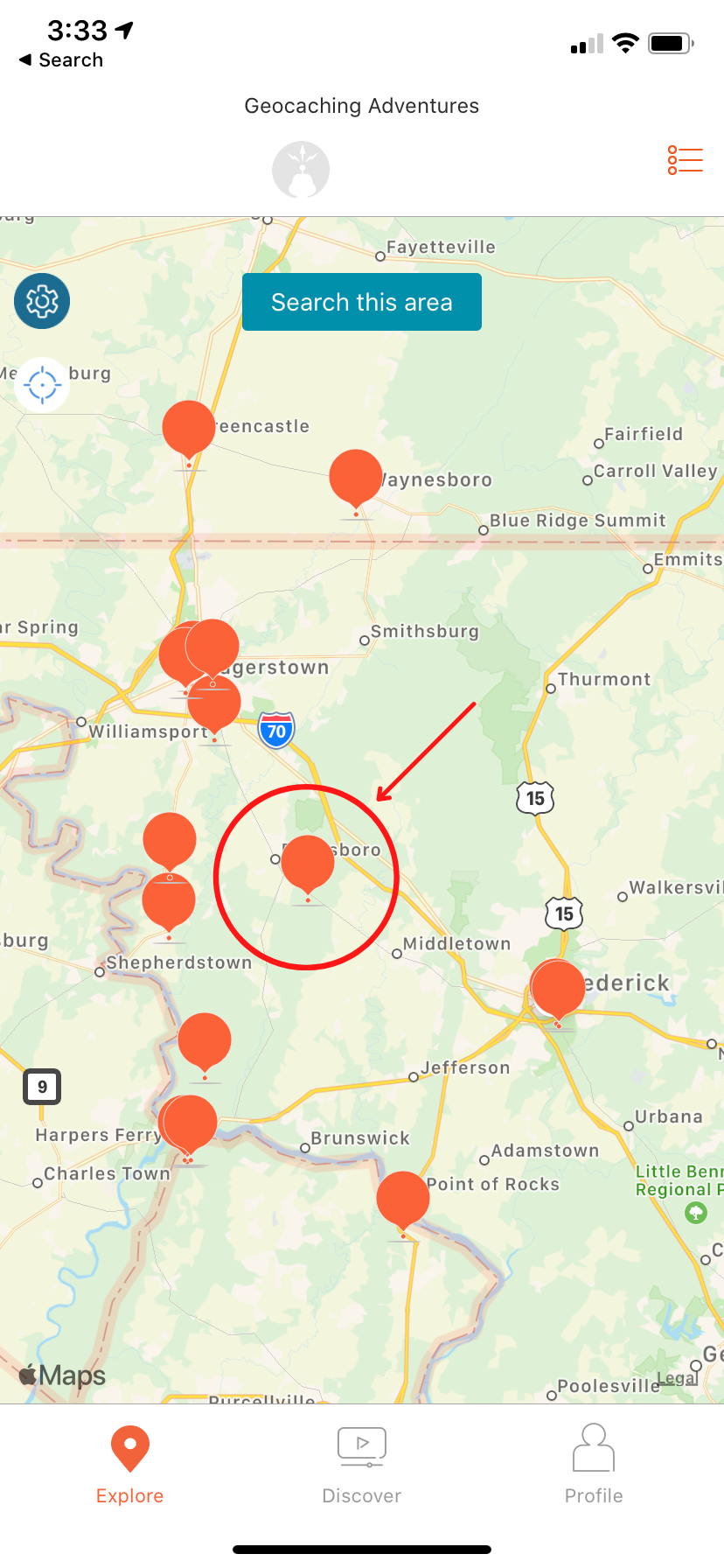 Create a free geocaching.com account and find the 17 cache coordinates and the Adventure Lab bookmarked here
Download the Geocaching app and the Adventure Lab app - to locate the Heart of the Civil War Adventure Lab, select the Adventure just south of Boonsboro (see image at right)
Download and print your passport
Find at least 13 caches on the trail & record the code words from each cache
Bring your passport to one of participating Visitor Centers (below)
Pick up your free, trackable prize (while supplies last)
Redeeming Prizes
Prizes will be awarded to geocachers (while supplies last) who find the locations of at least 13 HCWHA caches. To be eligible for a free prize, geocachers must record the code word from at least 13 HCWHA geocaches and validate their passports in person at one of the locations below. One prize will be awarded per geocaching.com account.
You may redeem your passport and receive a free prize at the following locations:
Frederick Visitor Center
151 S. East Street, Frederick, MD 21701
301-600-4047, 800-999-3613
Newcomer House at Antietam National Battlefield
18422 Shepherdstown Pike, Keedysville, MD 21756
Open 10:00 am to 4:00 pm, weekends only in April, May, October & November; daily June-September.
Carroll County Visitor Center
1838 Emerald Hill Lane, Westminster, MD 21157
410-848-1388 or 1-800-272-1933
For those who have completed the trail, Heart of the Civil War GeoCoins are available for purchase while supplies last at the Frederick Visitor Center, the Historical Society of Carroll County, the Antietam National Battlefield Park Store, and the Washington County Museum of Fine Arts. The Frederick Visitor Center will ship the geocoins for a modest handling fee. Call for more information.