Newcomer House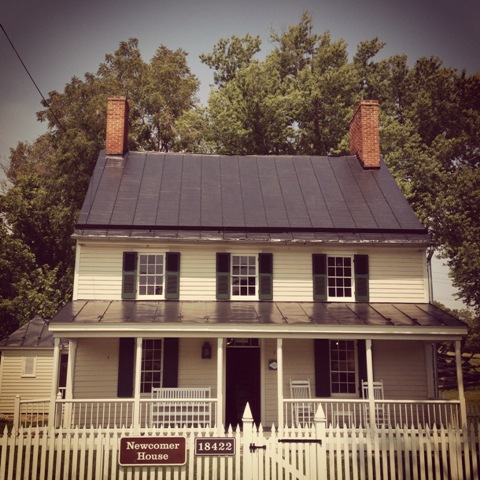 The historic Newcomer House at Antietam National Battlefield is the site of the Heart of the Civil War Heritage Area Exhibit and Visitor Center, made possible by a cooperative agreement between the National Park Service and the Hagerstown-Washington County Convention and Visitors Bureau. The house was built in the 1780s as part of a prosperous mill complex and is one of the few original homes on the battlefield that is open to the public. During its open season, the house is staffed by knowledgeable National Park Service volunteers and offers resources to help plan your visit to the area. Printed guides and brochures provide information about Washington, Frederick, and Carroll counties in Maryland. Three exhibit rooms explore the major themes of the heritage area: In the Heat of Battle, On the Home Front, and Beyond the Battlefield. Each room features sites and displays that relate to those themes.
Porch Programs take place at Newcomer House each month during the open season. Check out our calendar of events for a complete listing of these free, family-friendly programs on various Civil War-related topics.
Location:
18422 Shepherdstown Pike, Keedysville, MD 21756. The Newcomer House is located approximately ½ mile east of Sharpsburg along Maryland Route 34 (Shepherdstown Pike) on the western edge of the Antietam Creek. Phone: 301-432-6402
Hours of Operation:
The Newcomer House is open 10am-4pm weekends in April, May, October and November and daily June through September.
Famed Civil War photographer Alexander Gardner took this in 1862, looking west at the Middle Bridge and the Newcomer Farm and Mill.
About the Newcomer House
The Newcomer House was built by Christopher Orndorff in the late 1780s as part of a thriving mill complex and farm astride the Boonsboro Pike where the Middle Bridge spans Antietam Creek. The house gets its present day name from Joshua Newcomer who owned the property during the 1862 Battle of Antietam.
No major fighting took place on the Newcomer property during the battle but it did witness some skirmishing, long range artillery, and counter-battery firing. After the battle, Alexander Gardner took numerous photographs around the Middle Bridge which show various parts of the Newcomer property. The mill and house, as well as the barn and outbuildings, were used as makeshift hospitals for the Federal army in the days and weeks after the battle. Joshua Newcomer was never able to financially recover from the damage to his property. He sold the property and business a few years later.
The Newcomer House remained under private ownership until it was purchased by Antietam National Battlefield in 2007. In 2000, the Newcomer House was restored to Secretary of the Interior standards. The Heart of the Civil War Heritage Area opened an Exhibit and Visitor Center at the Newcomer House in 2010, made possible through a unique partnership between Antietam National Battlefield and the Hagerstown-Washington County Convention and Visitors Bureau.