Maryland's Heart of the Civil War Documentary
eyJhdXRob3JfdXJsIjoiaHR0cDpcL1wvd3d3LnlvdXR1YmUuY29tXC91c2VyXC9WaXNpdEZyZWRlcmljayIsInRodW1ibmFpbF91cmwiOiJodHRwOlwvXC9pLnl0aW1nLmNvbVwvdmlcL0dfSFFJU1VJaHBNXC9ocWRlZmF1bHQuanBnIiwicHJvdmlkZXJfdXJsIjoiaHR0cDpcL1wvd3d3LnlvdXR1YmUuY29tXC8iLCJ0eXBlIjoidmlkZW8iLCJoZWlnaHQiOjM2MCwidGl0bGUiOiJNYXJ5bGFuZCdzIEhlYXJ0IG9mIHRoZSBDaXZpbCBXYXIgRFZEIiwiaHRtbCI6IjxpZnJhbWUgd2lkdGg9XCI2NDBcIiBoZWlnaHQ9XCIzNjBcIiBzcmM9XCJodHRwOlwvXC93d3cueW91dHViZS5jb21cL2VtYmVkXC9HX0hRSVNVSWhwTT9mZWF0dXJlPW9lbWJlZFwiIGZyYW1lYm9yZGVyPVwiMFwiIGFsbG93ZnVsbHNjcmVlbj48XC9pZnJhbWU+IiwicHJvdmlkZXJfbmFtZSI6IllvdVR1YmUiLCJ0aHVtYm5haWxfd2lkdGgiOjQ4MCwidGh1bWJuYWlsX2hlaWdodCI6MzYwLCJ2ZXJzaW9uIjoiMS4wIiwiYXV0aG9yX25hbWUiOiJWaXNpdEZyZWRlcmljayIsIndpZHRoIjo2NDAsIm9yaWdpbmFsVXJsIjoiaHR0cHM6XC9cL3lvdXR1LmJlXC9HX0hRSVNVSWhwTSIsIm9yaWdpbmFsV2lkdGgiOjY0MCwib3JpZ2luYWxIZWlnaHQiOjM2MH0=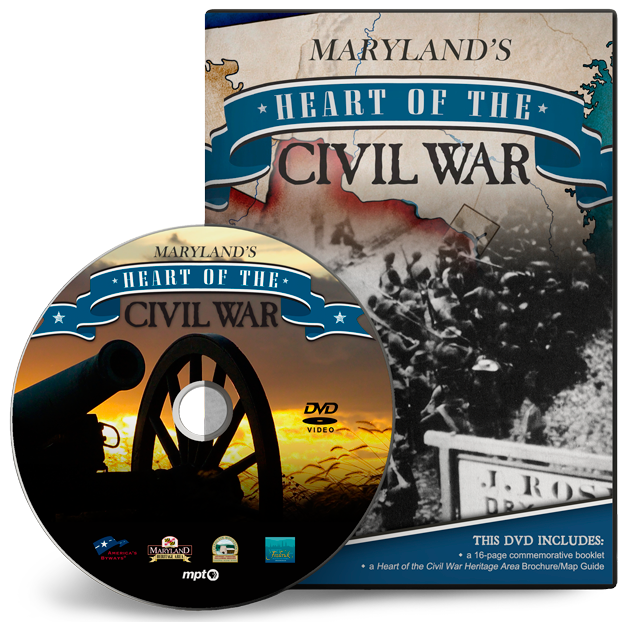 Experience "Maryland's Heart of the Civil War" film! An Emmy® award-winning historical documentary, this comprehensive film introduces viewers to the compelling heritage stories and tourism opportunities in our area, and includes a 16-page commemorative booklet and a Heart of the Civil War Heritage Area brochure-map guide!
"The sites featured in this film such as battlefields, museums, and scenic byways can be experienced beyond the Civil War anniversary period, and we were so fortunate to have noted historians on camera to share their expertise about these locations," says film producer Chris Haugh, formerly the Scenic Byways and Special Projects Manager of the Tourism Council of Frederick County.


Extend your experience with the free app-based companion book, available for Android and Apple devices as part of the Maryland Heart of the Civil War app.
You will find even more information on local historic Civil War events within the Frederick County area, including interview segments with noted regional historians, filmed during the making of the documentary. The interactive book also features links to spoken word quotes and diary passages by soldiers, officers, and civilians.
"Maryland's Heart of the Civil War" film recently received an Emmy® Award from the National Capital Chesapeake Bay Chapter of the National Academy of Television Arts and Sciences (NATAS). The documentary, which debuted on September 4, 2012 in Frederick, Maryland, was produced by the Tourism Council of Frederick County in partnership with Maryland Public Television (MPT). It has shown on public television stations across the United States, and was made possible by grants from the National Scenic Byways Program and the Maryland Heritage Areas Authority. For more information, call the Frederick Visitor Center at 1-800-999-3613.

Download the FREE Maryland's Civil War App on iTunes for Apple devices or GooglePlay for Android, or check out the companion book here!
Get your copy of "Maryland's Heart of the Civil War" documentary film for only $9.99* at any of the following locations!
+ Frederick Visitor Center
+ Monocacy Battlefield Visitor Center
+ National Museum of Civil War Medicine
+ Museum of Frederick County History
+ Hagerstown and Washington County Welcome Center
+ Antietam Battlefield Visitor Center
+ Sharpsburg Historical Society
+ National Shrine of Elizabeth Ann Seton
*Plus sales tax