Bugle Call
Stories of Slavery in Familiar Landscapes
September 15, 2015
Neither the preliminary announcement released on September 22, 1862, nor the Emancipation Proclamation of January 1, 1863 freed a single slave in Maryland. Because President Abraham Lincoln's policy only affected states in rebellion, abolition was delayed in Maryland until a new state constitution went into effect in November 1864. Votes from Maryland's Union soldiers at the front were a deciding factor in passing the referendum.
Slavery was vigorously resisted before the legal passage of Emancipation. Marylanders held in slavery struggled for their freedom despite the risks. The Study of the Legacy of Slavery in Maryland at the Maryland State Archives has collected over 11,000 runaway advertisements demonstrating this resistance. These advertisements offer a window into this chapter of history, with descriptions of the appearance, mannerisms and clothing of enslaved people as well as specific locations of departure and paths of escape.
Enslaved Marylanders lived and worked in many places we know today throughout the Heart of the Civil War.
L'Hermitage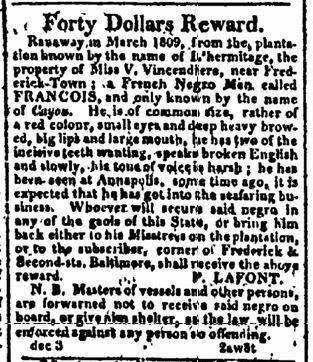 The Vincendiere family fled Haiti as a slave revolt became a revolution, arriving in Maryland in 1793. Among the 12 slaves they brought with them was twenty-year-old Francois Arajou. They established a plantation called L'Hermitage, now part of Monocacy National Battlefield.
Francois escaped in March of 1809. We know he was able to remain free for at least a year and a half as this advertisement for his capture ran in Baltimore's Federal Gazette on December 13, 1810.
L'Hermitage was unusual compared to the family farms of Frederick County. Up to 90 enslaved people lived here at one time. Recent archeological research at L'Hermitage uncovered many traces of this history. The main house, secondary dwelling, and the unique barn present today would have stood during Francois's time.
Pipe Creek near Taneytown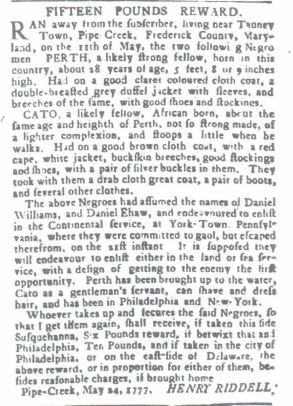 Perth and Cato were two young men who escaped slavery in present-day Carroll County. Perth had been born on this continent and raised to become a waterman. African-born Cato was evidently refined as he had traveled to Philadelphia and New York as a "gentleman's servant," could shave and dress hair, and wore shoes with silver buckles.
The two assumed new names and enlisted in the Continental Army to fight in the Revolution. The man who owned them speculated they would defect to the British, who offered freedom to slaves who enlisted. The two were jailed at York Town, Pennsylvania, before escaping. Slave owner Henry Riddell believed they would try again to enlist.
Pipe Creek still flows through the landscape familiar to Perth and Cato. Despite changes due to erosion, pollution, and development, the waterway remains.
Catoctin Iron Furnace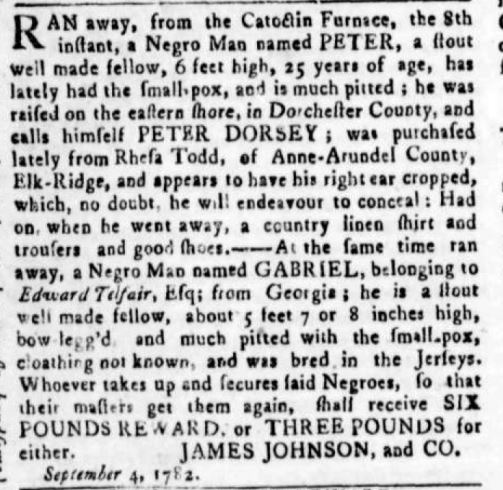 Peter Dorsey and Gabriel were two of the enslaved workers at the Catoctin Furnace in 1782. Peter had been sold from Anne Arundel County and Gabriel had been born in New Jersey but sold to a man from Georgia. James Johnson, a brother of Governor Thomas Johnson, developed the Catoctin Furnace and placed this advertisement for the men. Sections of the Catoctin Furnace still stand today: the Isabella stack, built in 1858, remains open to visitors. Peter and Gabriel may have labored in the 1776 furnace that once operated behind Isabella. Walk the ground once shared by Peter and Gabriel at Cunningham Falls State Park and the Catoctin Furnace Historical Society.
Rockland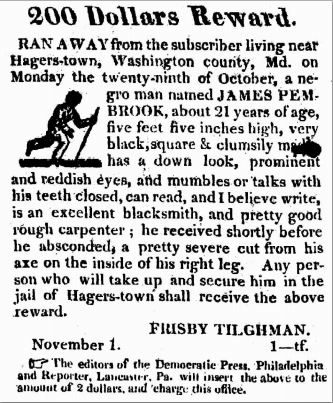 James Pembroke escaped from Frisby Tilghman's Rockland estate in November of 1827, and would remain free for the rest of his life. He took the name James W. C. Pennington and became a minister of the Congregational Church, traveling widely and advocating abolition. He published The Fugitive Blacksmith, a popular account of his life as a slave and his escape, in 1849. Pennington served as a delegate to the World Anti-Slavery Convention in London in 1840, and when the Fugitive Slave Act passed in 1850, Scottish abolitionists helped him purchase his freedom. Rockland still stands in Washington County as a private residence and wedding venue.
Theophilus Thompson residence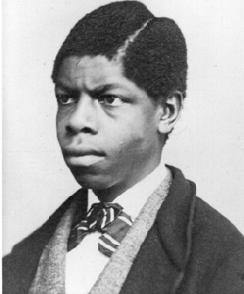 Theophilus Augustus Thompson was an African American chess expert from Frederick. It is unknown if he was born free, but by the time he was nine years old slavery had been abolished in Maryland. Thompson published Chess Problems in 1873 and was praised by The City of London Chess Review as "a composer of great merit and of rare promise." At the time he wrote his book, Thompson was probably living as a domestic servant in the household of Constable William Higgins and his wife Maria near Mount Olivet Cemetery and the Maryland School for the Deaf.
To find out more about the enslaved people who lived in your town, please visit our searchable database.