Bugle Call
Native Spring Ephemerals in the Heart of the Civil War Heritage Area
April 6, 2020
Editor's Note:
We hope this springtime flora blog post brings some color into your home and offers inspiration for your walks this April as we all adjust to the restrictions imposed by COVID-19! Follow guidelines for social distancing during any time spent outdoors. See Maryland State Department of Natural Resources Guidelines and the National Park Service Public Health Update.
Springtime is especially beautiful in the Heart of the Civil War Heritage Area thanks to the appearance of native wildflowers as winter fades into spring. Whether you're out on local trails in the heritage area or perhaps in your own backyard or neighborhood, you're likely to see splashes of brightly colored blooms here and there.
Spring ephemerals, as they're called, only bloom for a short time. In fact, the word ephemeral means transitory or quickly fading. Perennial woodland wildflowers can be found throughout the heritage area as the spring sun warms the ground, before trees produce foliage and block the light.
Here's just a sampling of what you may expect to find:
Yellow Trout Lily (Erythronium americanum)
Yellow trout lily is typically one of the first blooming spring ephemerals. They're often found in shady spots with moist soil near water. The trout lily has nodding yellow blossoms that resemble miniature lily blooms. The plant itself is approximately 4"-6" tall and has a few spotted leaves with a sweet smell.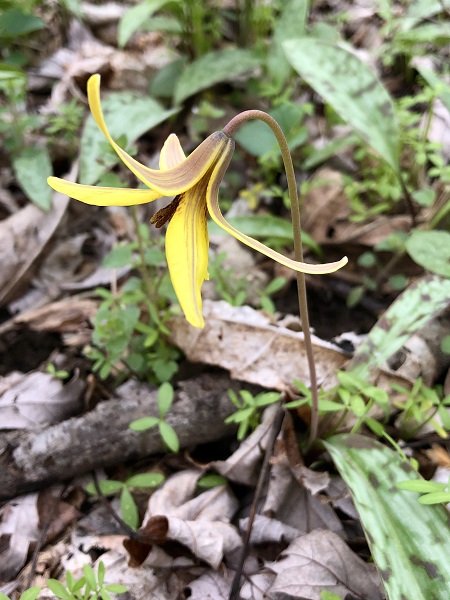 Dutchman's Breeches (Dicentra cucullaria) (pictured at left)
Dutchman's Breeches is one of the most whimsical of all spring ephemerals. Its name is derived from the blooms that resemble upside-down white breeches or bloomers hanging from a bare stem in rows. Part of the bleeding heart family, these ephemerals form an early spring groundcover with their delicate, fern-like foliage.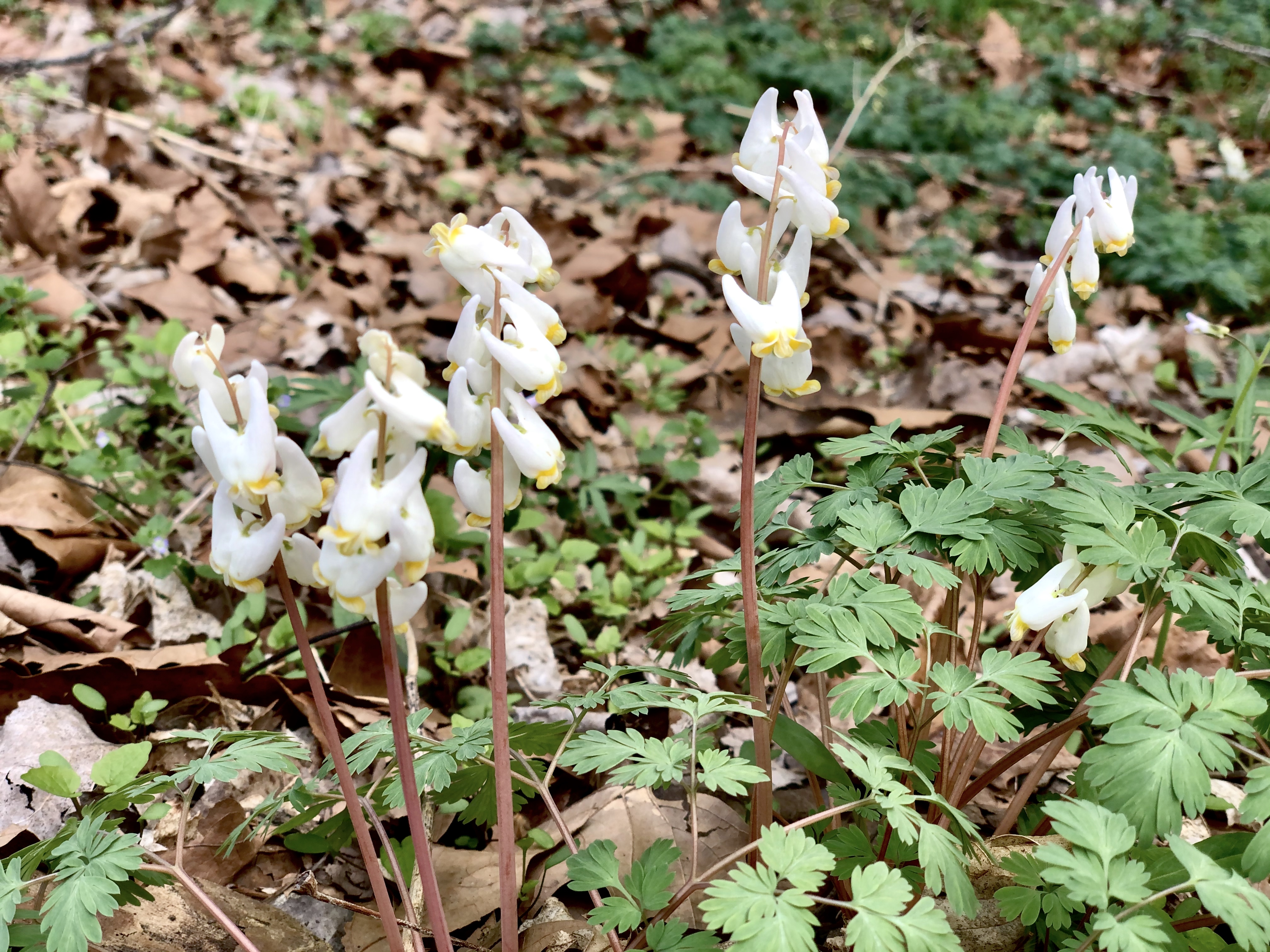 Virginia Bluebells (Mertensia virginica) (see title image above)
Virginia Bluebells are the largest of the spring ephemeral plants on this list and the only ntive blue perennial, though the color of their bell-shaped flowers can range from white to pink to lavender to blue to purple. Their large green leaves sometimes have a purple tint and they appear in early to mid spring, growing from rhizomes. Bluebells enjoy rich, moist yet well-draining soil and often can be found in river floodplains. They spread and form large colonies over time.
Bloodroot (Sanguinaria canadensis)
Bloodroot has a large white blossom with a yellow center, which is why it resembles garden anemones. Like bluebells, it grows from rhizomes, which spread and form colonies over time. The Bloodroot's flower is only open for a short time and there is a light green leaf wrapped around the stem that opens into a very unique shape as the flower fades.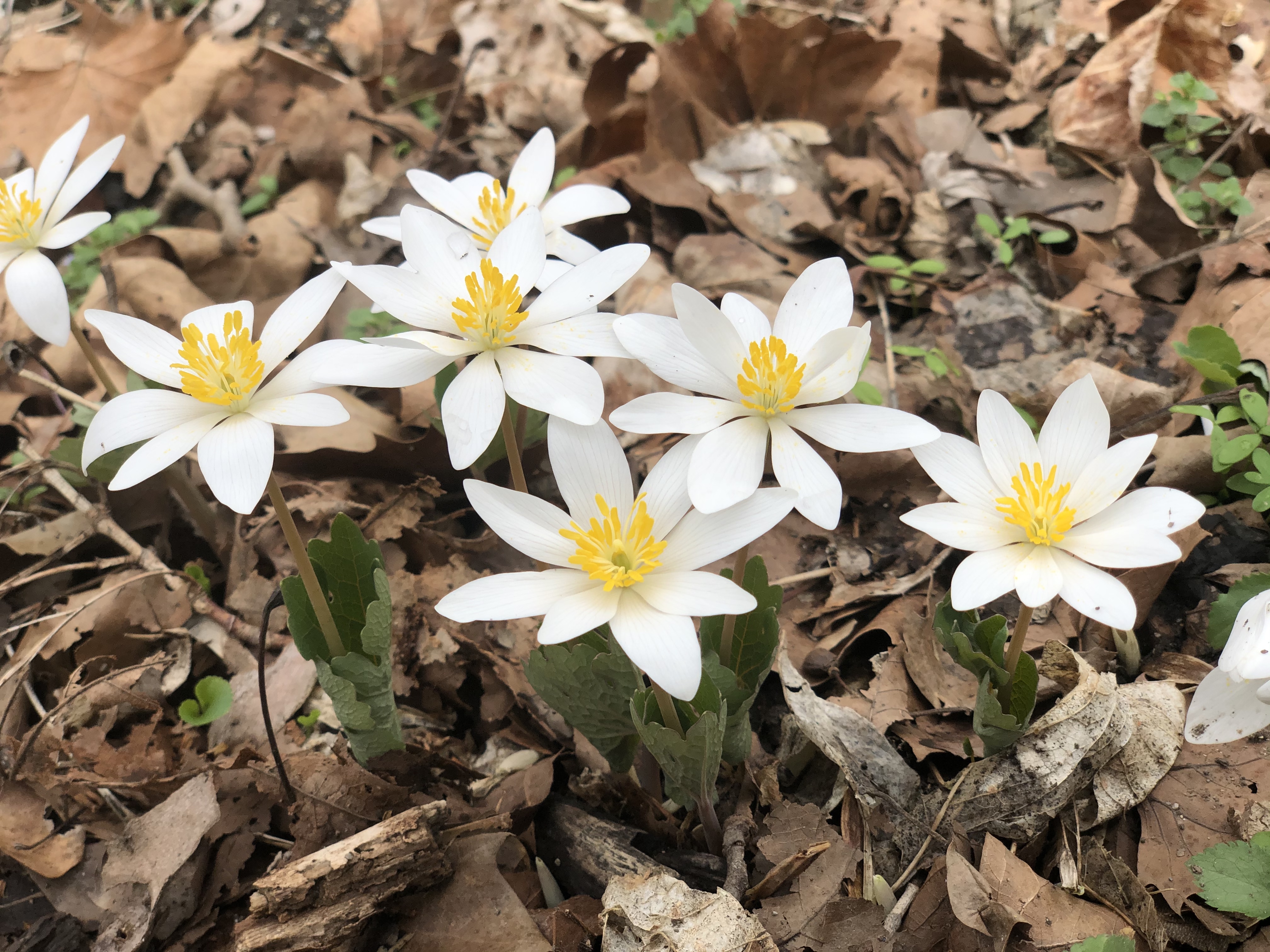 Spring Beauty (Claytonia virginica)
Spring Beauty is one of the earliest of the spring ephemerals to bloom, producing tiny flowers that, at first, appear pink, but are actually five white petals with pink stripes. The flowers open up on warm, sunny days and close during cloudy days as well as at night. This perennial wildflower is usually found in moist woodlands or along stream banks. It prefers dappled sunlight and will adapt to semi-shaded areas as well. The root system of Spring Beauty is a small corm and secondary roots. It spreads by reseeding itself and forms colonies of plants.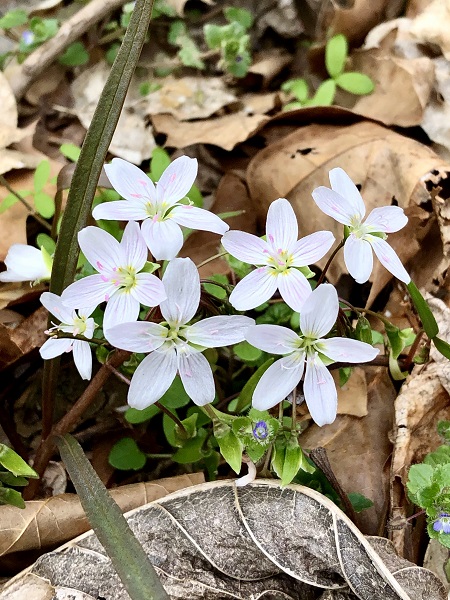 Mayapple (Podophyllum peltatum)
Mayapple is one of the more unique spring ephemerals, with just two leaves and one flower, which grows in the axil of the leaves. It's easy to identify by the large, twin, leaves that resemble an umbrella. When the plant has reached its full height of 1-1.5-feet tall, the leaves unfold, measuring 6-8 inches across. A single, nodding, predominantly-white flower that looks similar to an apple blossom grows underneath the leaves. Mayapple is found in damp, open woodlands and colonizes by rhizomes.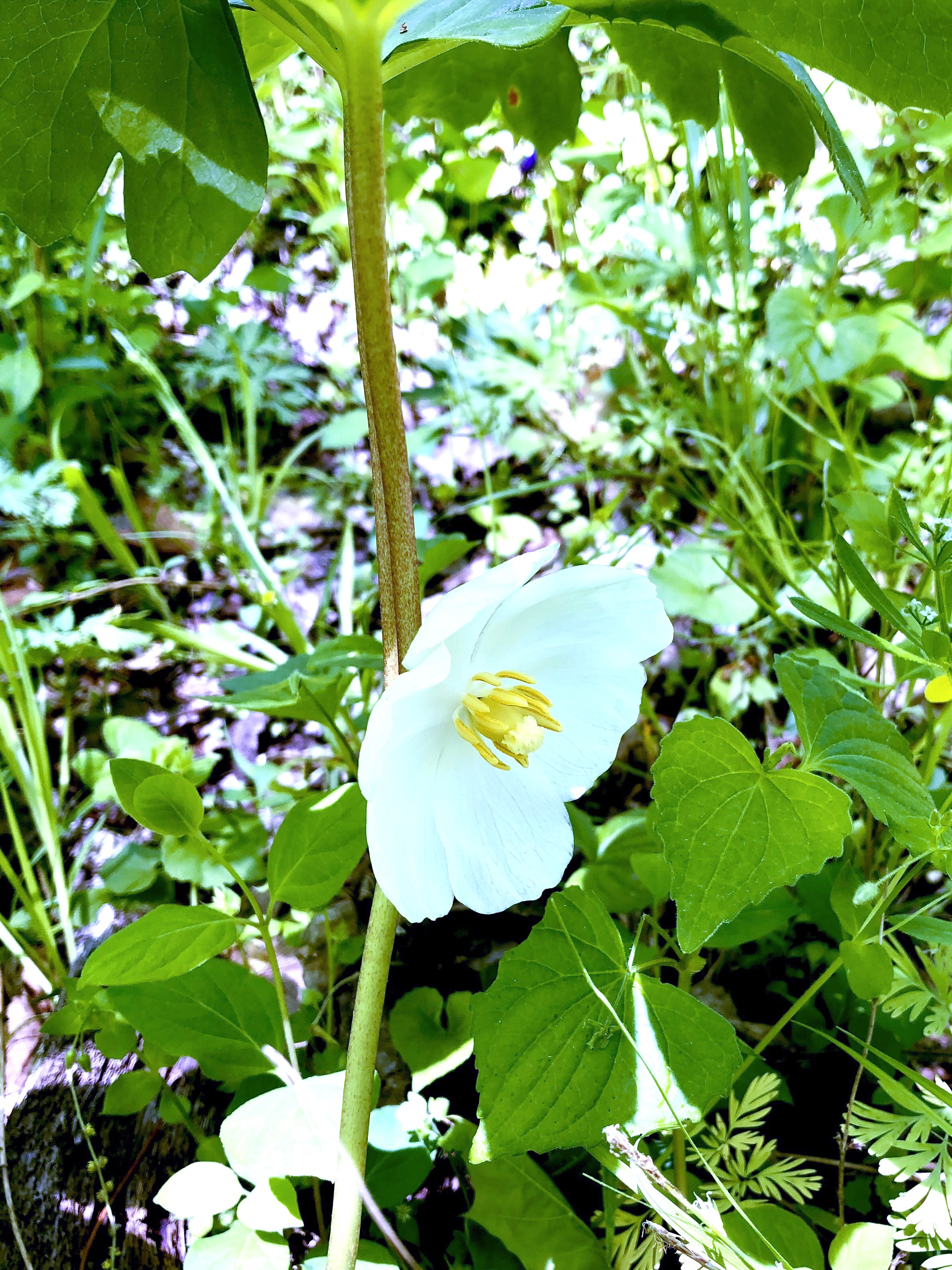 If you're interested in learning more about spring ephemerals, visit the Maryland Native Plant Society website.The Lady Bird Johnson Wildflower Center website has a helpful page on Wildflowers of the Eastern Woodlands. If you're trying to identify a plant and can snap a photo with your smartphone, the iNaturalist app can help determine what you've observed. The app is free to use and can be downloaded for android or Apple devices.