Beyond the Battlefield
Hospital Centers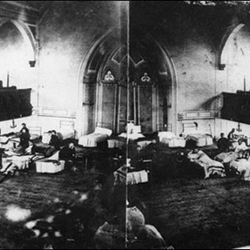 As war raged for four years, local residents witnessed the human cost of the fighting. Thousands of soldiers were wounded in battles and skirmishes, and much of the area resembled one big hospital ward for most of the war. Large government tent hospitals were erected in fields, and many churches, homes, barns, schools, and other public buildings were also used to care for the sick and wounded. In the fall of 1862, just days after playing host to both armies during the battles of South Mountain and Antietam, Frederick was inundated with more than 9,000 wounded and sick soldiers.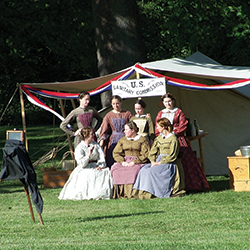 Westminster and Hagerstown played similar roles in hospital care, as did smaller towns such as Boonsboro and Burkittsville. Future U.S. President Rutherford B. Hayes recovered in a Middletown dwelling from wounds suffered at nearby South Mountain; future Supreme Court Justice Oliver Wendell Holmes convalesced in Hagerstown at the Howard Kennedy home; and Paul Joseph Revere, grandson of the famed Revolutionary War patriot, died in Westminster from wounds at Gettysburg. In October 1862, President Lincoln visited the wounded at Sharpsburg and Burkittsville and made a personal visit to see General George L. Hartsuff, who was being cared for in a private home in Frederick. During the war, 600 sisters from a dozen religious communities served as nurses. Following Gettysburg, the Daughters of Charity were among the first at the battlefield to give aid to the wounded. Charity Afire, an exhibit about the Daugthers' Civil War caregiving, is on view at the National Shrine of St. Elizabeth Ann Seton in Emmitsburg.
Cemeteries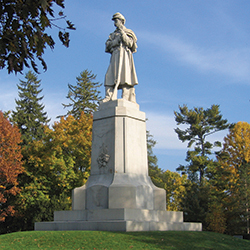 There were over 23,000 casualties at Antietam, including soldiers who were killed, wounded, missing or captured. Burial details worked hard, but many graves were inadequately prepared, as many were simply shallow ditches for hundreds of bodies, marked only by crude wooden headstones. While some friends and relatives were able to transport their loved ones home, many men were left in the fields surrounding Sharpsburg. By 1864, many bodies were exposed, with no plan for re-interment. A bill was introduced in the Maryland Senate for dedicating a state or national cemetery at Sharpsburg for all Marylanders who died in the Maryland Campaign. However, bitterness and the South's inability to raise funds forced the cemetery to be dedicated only to Northern troops.
On September 17, 1867, the fifth anniversary of the battle, President Andrew Johnson and other dignitaries officially dedicated Antietam National Cemetery. Confederate remains for about 2,800 soldiers were re-interred in Washington Confederate Cemetery in Hagerstown, Mt. Olivet Cemetery in Frederick, and Elmwood Cemetery in Shepherdstown, West Virginia.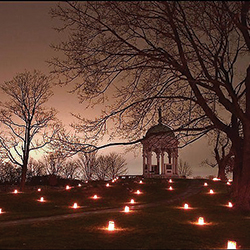 Union and Confederate soldiers can be found in many cemeteries and small churchyards throughout the heritage area. This includes men who served in colored regiments. Frederick's Laboring Sons Memorial Ground and Fairview Methodist Church Cemetery near New Windsor are the final resting places of several U.S. Colored Troops. The latter also includes interesting gravestones by "Boss" Hammond, a slave who is buried there and who bought his freedom by carving beautiful headstones. Words cannot capture the emotional intensity of visiting the annual Antietam National Battlefield Memorial Illumination ceremony the first Saturday evening in December. With luminaries to represent each of the soldiers killed, wounded, or missing during the battle, it is a truly moving experience.
National Museum of Civil War Medicine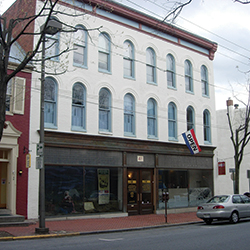 The National Museum of Civil War Medicine (NMCWM) is located in Frederick. Through artifacts and illustrations, exhibits tell the story of the sick and wounded, surgical and care techniques, hospital structure, the role of nurses, and the challenges of field medicine. NMCWM also operates the Pry House Field Hospital Museum, located on the grounds of Antietam National Battlefield (just east of the main park). Quartered in an historic farmhouse used as Major General George McClellan's headquarters, the museum houses medical exhibits demonstrating the challenges faced at Antietam and a unique recreation of a field hospital. Open seasonally.