Calendar of Events
A Death in the Sherman Family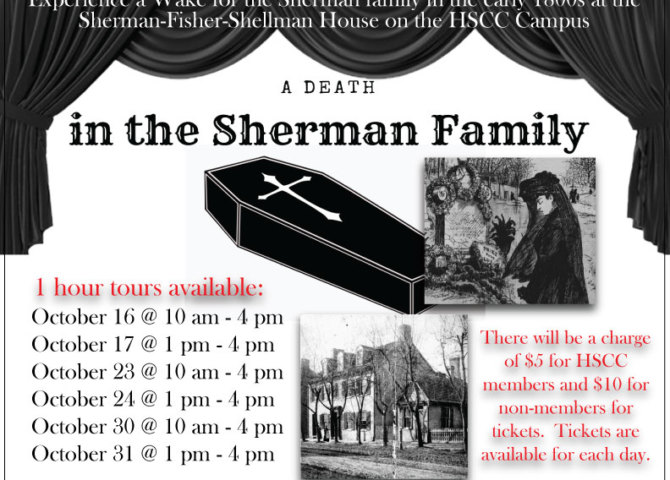 Historical Society of Carroll County

210 E. Main St.
Westminster, MD 21157

Website
410-848-6494
$
For three weekends in October, we will be hosting a wake for the Sherman family in the early 1800s at the Sherman-Fisher-Shellman House on the HSCC Campus. We will be recreating a wake and visitors will be able to hear Elizabeth's story of being a widow in Westminster from the 1820s until her death in 1842. In addition there will be a small temporary exhibit concerning funeral practices in the Kimmey House. Items on display will be from the Sherman's on up to more recent death jewelry.
Wakes, funerals, and mourning rituals were very different from the traditional funerals that we think of today. This is before Victorian times with tons of black crepe and fancy dress. We will tell the story of simple, rural, 1820s to 1840s funeral practices accurately as an educational teaching opportunity.
We plan to address the spooky season with some fun museum offerings. We are planning an exhibit of some of the mourning artifacts from all time periods in our collection. There will also be a virtual exhibit on our website to complement the topic.
For the October series of weekends, we will have a coffin that is to period and will have as many period characters as we can get volunteers. We also plan to have local period greens that would have been used for the house and wake. All visitors will leave with a handout of some of the research highlights and research resources to do more research about Carroll County history. The handout will identify where in the Westminster Cemetery the Sherman family place of final rest can be visited.
The event will run for 3 weekends. The dates are: October 16 (10am -4pm); October 17 (1pm to 4pm); October 23 (10 am – 4pm); October 24 (1pm – 4pm); October 30 (10am – 4pm); and October 31 (1pm-4pm).
The last tour each day will begin at 3pm.
$5 for HSCC Members, $10 for non-members