Calendar of Events
Funkstown Park Days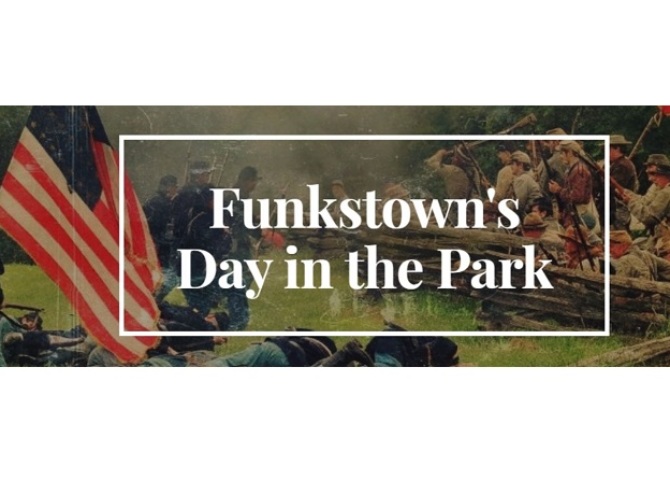 When: Always the third weekend in July Sponsored by the Town of Funkstown, Funkstown Park Days is a festival devoted to showcasing the rich Civil War History in Washington County.
Browse through historic and picturesque Funkstown Park and shop for traditional and Early American handmade crafts, paintings and unique gifts. Experience various historical demonstrations. Several exhibitors will be on display! Also included are Civil War display and artifacts, real-life Civil War re-enactors, great food and more!
Cost: The festival is free! Plan to spend on the wonderful exhibitor's wares and great eats.
Dogs: Funkstown Community Park is a dog friendly park. All friendly dogs are welcome to the festival as long as they are on a leash and the owner cleans up after them.
Parking: Parking for the festival is around town on side streets around the park and in various parking lots, some of which are manned by Boy Scouts for a small donation.
Directions: From I-70 Eastbound take exit 32A. Take the first right onto Beaver Creek Road. Funkstown Community Park will be on your left on Robert Kline Way. From I-70 Westbound take exit 32B. After the exit in 1.2 miles turn left onto Hebb Road. In 0.9 miles turn left at the fork on to Beaver Creek Road. Funkstown Community Park is on your right on Robert Kline Way.
Funkstown Community Park: Please note that there are two entrances to the park. The Maple Street Entrance off of Frederick Road and the Robert Kline Way entrance off of Beaver Creek Road. The main event spreads between both entrances of the park.