Calendar of Events
Insights into Camp David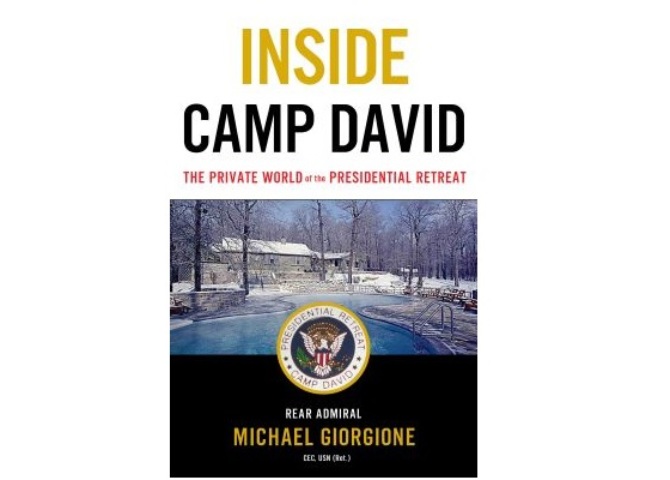 It isn't oft-photographed like the White House. It's not the site of celebrity-filled black-tie state dinners. It's not the backdrop for our selfies. Yet Camp David plays a crucial—and often unheralded—role in the modern presidency, one that hasn't been examined closely, until recently. Rear Admiral Michael Giorgio-ne, CEC, USN (Ret.), who oversaw Camp David from June 1999 to August 2001, will be part of a virtual program hosted by Heritage Frederick on September 24th. His presentation will begin at 7:00 p.m.
Commander Giorgione served under both President Bill Clinton and President George W. Bush. It was a particularly fascinating and fraught time in our country. Combining first-person anecdotes of the presidents and their families with years of storied history and interviews with commanders past and present, Giorgione reveals the intimacy between the First Family and this notable sanctuary in a book entitled "In-side Camp David: The Private World of the Presidential Retreat." The book takes readers inside the gates of the private retreat, tucked away in the woods atop Maryland's Catoctin Mountains here in Frederick County. Camp David has played a vital role in American history over the past 75+ years, inviting presidents and international leaders alike to converge, converse, and, perhaps most importantly, relax. It is where:
-FDR and Churchill planned D-Day (the porch where they sat still remains)
-The 2015 GCC and 2012 G8 summits, the 2000 Middle East peace summit, and the 1978 Camp David Accords all took place
-President and Mrs. Reagan rode horses through the mountains
-Gerald Ford could take a moment to jump on a trampoline with his daughter
-Both Nixon and Clinton gravitated during times of personal crisis
-President George H. W. Bush played horseshoes with Soviet President Mikhail Gorbachev
-George W. Bush spent the night after 9/11
-Barack Obama taught his daughter Malia how to drive
Giorgione graduated from the US Naval Academy in 1981 and served for twenty-nine years on active du-ty in the Navy Civil Engineer Corps. As well as serving as the Commander of Camp David from 1999 to 2001, Giorgione has worked under the White House Military Office (WHMO), the organization that also includes Air Force One, Marine One, the Military Aides, and other White House Military units. He is a much sought-after speaker and educator throughout the United States and the world. The lecture is free and open to the public, but pre-registration is required. Books are available for purchase through Heritage Frederick's bookery. This program is part of the new Heritage Frederick At Home series, launched by the organization in order to provide virtual programming that bridges the past to the future. This program is supported in part by FCB Bank. For more information, visit frederickhistory.org.