Bugle Call
Man's Best Friend in War and Peace: Dogs in the American Civil War
February 25, 2016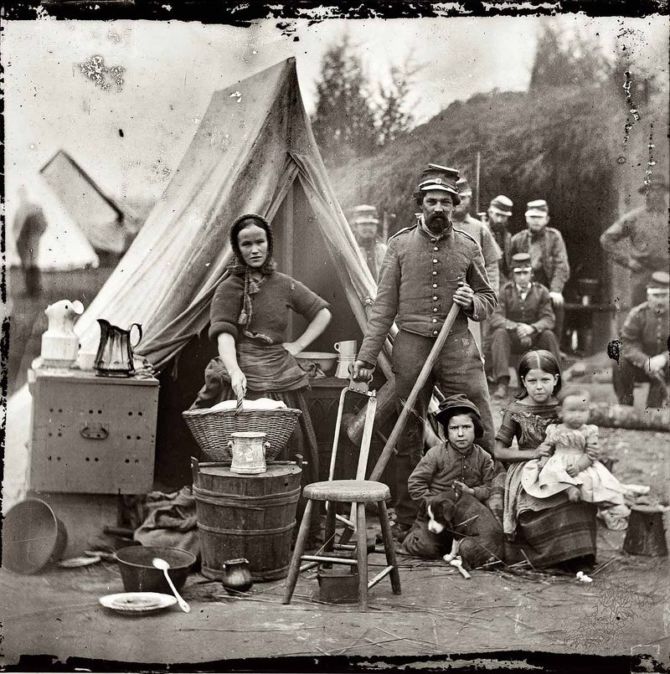 Editor's Note: In this guest post, military history expert—and owner of two beloved dogs—Tom Frezza of the National Museum of Civil War Medicine highlights canine companions in the Civil War and beyond.
When soldiers go to war, they try to bring many facets of home life with them: photos, letters, books, or even a favorite pipe. Another thing that they always try to bring (or find) is companionship. Sometimes, this friendship is with a pet. Throughout history, at any major conflict, you will find many stories of soldiers befriending one beast in particular: a dog. No matter what misery the soldier is facing, the dog will follow him—sometimes to their own demise. Dogs have acted as pets for officers, mascots for units, and in service alongside men. Let's take a look at some examples of these dogs from the Civil War.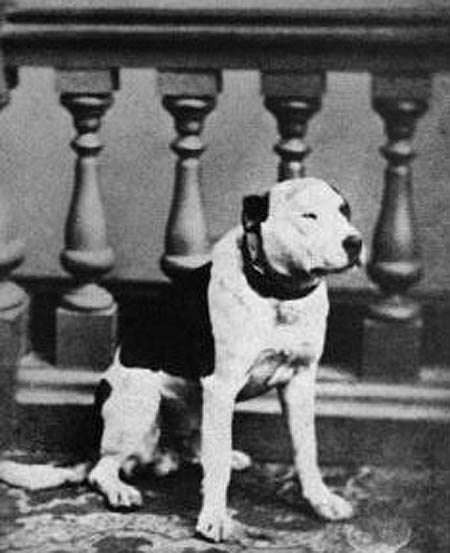 Jack
One of the better-known Civil War dogs was Jack, who served as the mascot for the 102nd Pennsylvania Infantry. Jack's regiment was made up mostly of firemen who had already adopted the brown-and-white bull terrier after he wandered into the Fifth Avenue Firehouse in Pittsburgh one day. When the men decided to enlist, they took Jack along with them. They were involved in many battles, including engagements at Yorktown, Williamsburg, Fair Oaks, Malvern Hill, Antietam, Fredericksburg, Gettysburg, Rappahannock, Wilderness, Spotsylvania, Petersburg, Sailor's Creek, and Appomattox. Jack accompanied his regiment through the Battle of the Wilderness, the Spotsylvania campaigns, and the siege of Petersburg. His men were so grateful to him that they collected $75 to buy him a silver collar as a tribute, giving him the collar in a special ceremony. On December 23, 1864, while the 102nd was on furlough in Frederick, Maryland, Jack disappeared. The men looked everywhere for him and offered a big reward for his return, he was never seen again. The 102nd mustered out on June 28, 1865.
Source: Pittsburgh Post-Gazette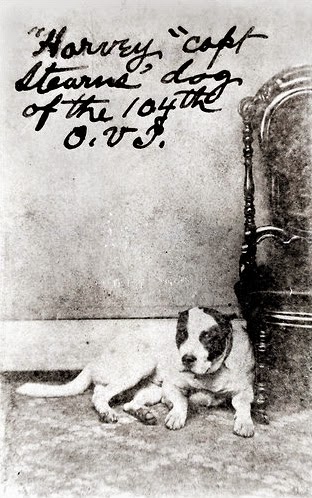 Harvey
Harvey was the mascot of the 104th Ohio Volunteer Infantry. Harvey came to the 104th Ohio when his master, Daniel M. Stearns of Wellsville joined the unit. Before that, Lt. Stearns and Harvey had been with the 8th Pennsylvania Reserves. Lt. Stearns had a brass tag made for Harvey's collar that read, "I am Lt. D.M. Stearns dog. Whose dog are you?"
Source: Tim Brooks Collection at the U.S. Army Military History Institute
Other dogs of the Civil War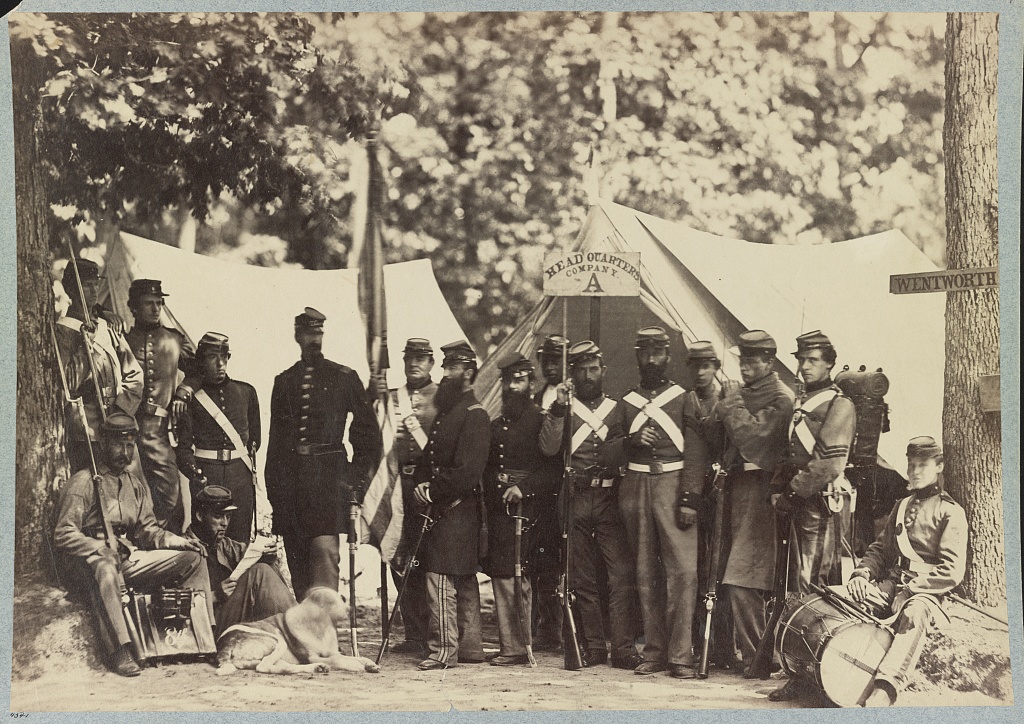 Group of Company A, 8th NY Militia
Group of Company A, 8th New York State Militia, Arlington, VA, June, 1861. None of the men are identified as they pose with the dog.
Library of Congress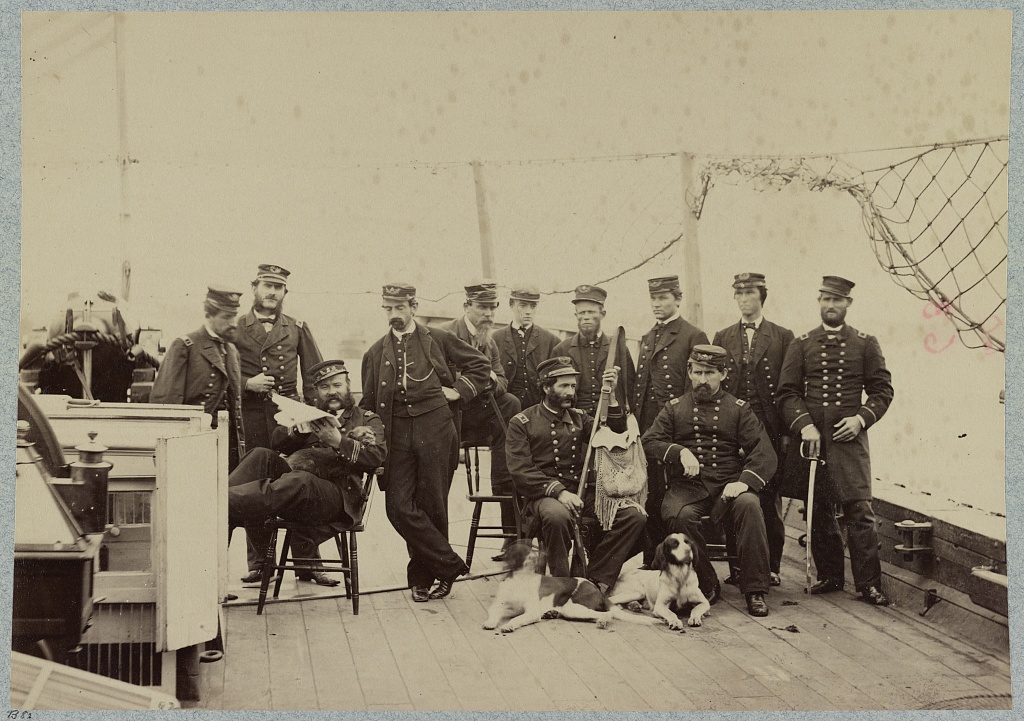 Officers of the USS Miami
"After a shooting trip ashore, officers of the gunboat Miami relax on deck with the hounds," circa 1864-65. Note officer with shotgun and game bag, with two hunting dogs at his feet. Seated Lieutenant at left holds a smaller dog while sharing a newspaper with other officers nearby.
Library of Congress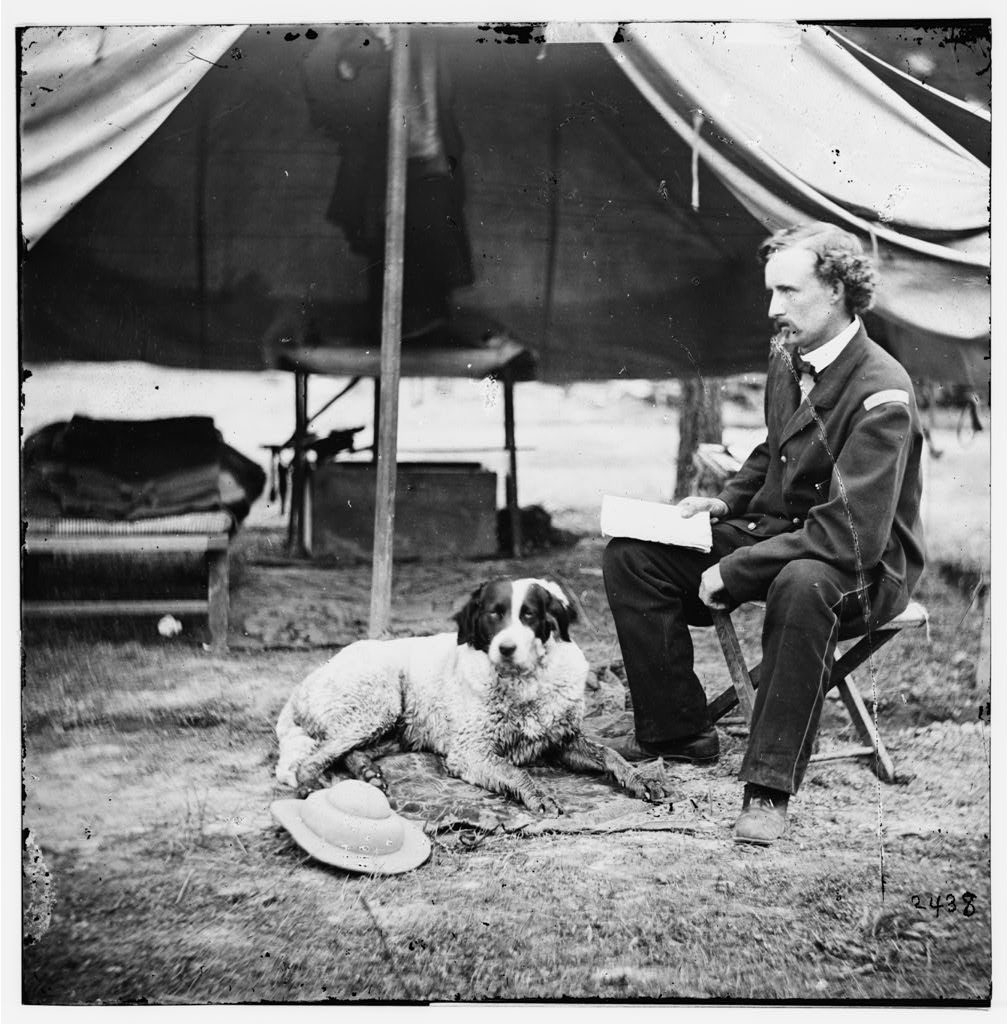 Lt. George A. Custer with a dog on The Peninsula
Library of Congress
Today, you can visit many of these same battlefields with your dog. The Pry House Field Hospital Museum at Antietam National Battlefield even hosts a Dog Days event in the historic barn in the fall. Most dogs are welcome to walk throughout the outdoor portions of battlefields, provided they are on a leash and their owner(s) clean up after them. Call or check a site's website before making a trip with your canine companion.
Pictured at top: a soldier and his family, undated, from Library of Congress