Bugle Call
Explore the Great Outdoors in the Heart of the Civil War Heritage Area
June 15, 2021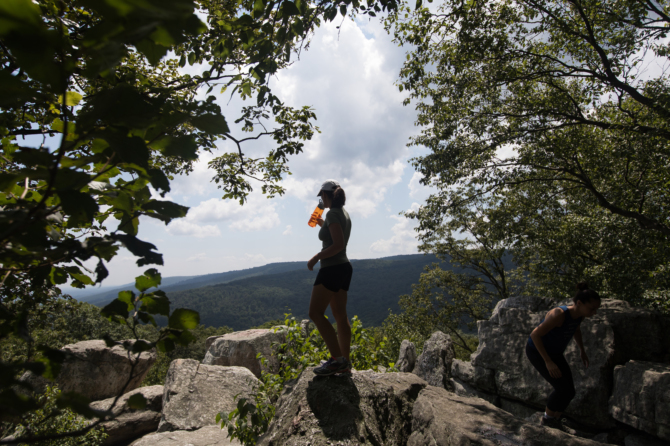 Title image courtesy of Visit Frederick
National Great Outdoors Month has been celebrated during June since 1998. It's a reminder to explore and care for our nation's abundant wildlife refuges, parks and natural beauty. It doesn't matter if you enjoy hiking, biking, paddling, fishing, birdwatching, nature photography, camping or another form of outdoor recreation, there's something for everyone!
The Heart of the Civil War Heritage Area is home to wonderful outdoor spaces. Throughout its three counties, there are many miles of trails and waterways to explore. There's beauty to be found in the outdoors year-round here, from winter snowscapes to spring flowers to summer sunsets to fall color. Plus, parks and public lands are finally considered health resources for people's physical, mental, and spiritual health; they're good medicine for everyone.
I've called this area home my entire life, and the older I get, the more I appreciate its scenic landscapes and access to trails. I've spent so much time enjoying my natural surroundings that I've found something to appreciate about every season, regardless of the temperature and the weather conditions. As winter fades to spring, I look forward to spring ephemerals and ferns unfurling in the Catoctin Mountains of northern Frederick County, signaling new life and the lifecycle of the forest. I love hiking up to Annapolis Rock on a warm summer evening and taking time to watch the sun slowly dip down below the horizon line, watching the sky look like a magnificent painting. Each fall, I visit Antietam Battlefield to appreciate the stunning fall color that perfectly frames the Maryland monument. And there's a quiet stillness in the air hiking or snowshoeing along the Appalachian Trail through South Mountain State Battlefield.
Over the past several years I've been exploring the great outdoors with my young daughter. Though I often share my knowledge with her when we're out on the trail, she's been a wonderful teacher to me, helping me slow down and truly see my surroundings. Perhaps most important of all, she's taught me how to simply be in the moment. Together, we've experienced the joy of a fawn tucked safely into tall grass along the Tidball Trail behind the Newcomer House at Antietam. While stopped for a snack this spring on the C&O Canal towpath, we heard two barred owls calling back and forth and spotted one of them perched high up in a nearby tree. We've watched an osprey at Harpers Ferry soar over the confluence of the Potomac and Shenandoah Rivers and land on its nest atop the pedestrian bridge. And we've witnessed (from a safe distance) the primal beauty of a large timber rattlesnake stretched out in the Frederick Watershed.
It's the awe-filled moments in the great outdoors that have the biggest impact. While not every adventure into nature is filled with beauty and wonder (plenty are filled with bugs and sweat), there's so much to enjoy when we stop rushing and slow down to nature's pace. During this Great Outdoors Month, I challenge you to do just that. Spend time relaxing and re-charging in the great outdoors of the Heart of the Civil War Heritage Area.