Bugle Call
Civil War Love Letters: Tales of Love and Loss
February 14, 2020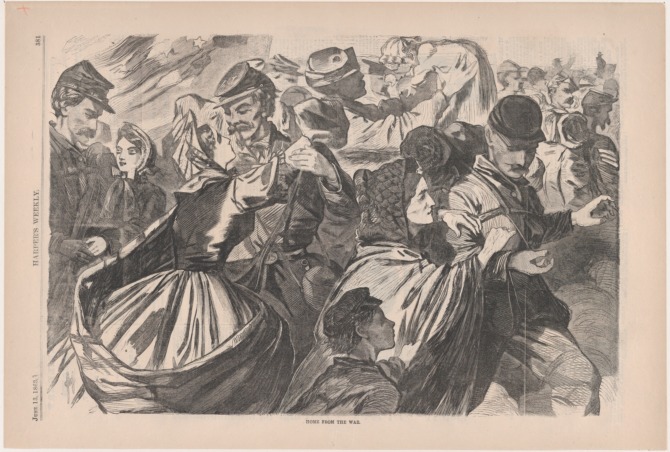 If you've ever watched Ken Burns' documentary "The Civil War," then it's likely you remember the poignant letter Major Sullivan Ballou of the Rhode Island Militia penned to his wife Sarah, a week before he was killed at the First Battle of Bull Run. While not all soldiers were as well spoken and eloquent when it came to writing letters to their loved ones, many did write about feelings of love, homesickness, heartache from time and miles spent apart, and uncertainty about what the future held. Letters between soldiers and those on the homefront are a glimpse into incredibly some incredibly touching pieces of correspondence during the Civil War.
Young William Child, Major and Surgeon, 5th New Hampshire Volunteers, sent his wife Carrie more than 150 heartfelt letters from 1862 to 1865. Only in his late twenties at the time, this is an excerpt from a letter he wrote September 22, 1862, following the horrific bloodshed at the Battle of Antietam:
Carrie I dreamed of home night before last. I love to dream of home it seems so much like really being there. I dreamed that I was passing Hibbards house and saw you and Lud. in the window. After then I saw you in some place I cannot really know where -you kissed me - and told me you loved me - though you did not the first time you saw me. Was not that quite a soldier dream? That night had been away to a hospital to see some wounded men - returned late. I fastened my horse to a peach tree - fed him with wheat and hay from a barn near by - then I slept and dreamed of my loved ones away in N.H.1
Despite re-enlisting in 1864, Child talked about resigning in later letters to Carrie. His letters demonstrate a great internal struggle juggling the demands of duty to country and his duties to his family as a husband and father. Yet he served until the war ended when he was able to return home to his beloved wife and children and live out a full life.
Confederate Major General George E. Pickett, twice widowed, wrote many affectionate letters to his young sweetheart back in Virginia, LaSalle "Sallie" Corbell. This excerpt is from a letter he wrote her in camp, dated June 18, 1863, as the Confederates attempted to cross the Potomac into Maryland for their second invasion of the north:
Each day, my darling, takes me farther and farther away from you, from all I love and hold dear. We have been guarding the passes of the Blue Ridge. To-day, under orders from Marse Robert, we cross the Potomac. McLaws' and Hood's Divisions and the three brigades of my division follow on after Hill. May our Heavenly Father bless us with an early and a victorious return. But even then, the price of it—the price of it, my little one—the blood of our countrymen! God in His mercy temper the wind to us! . . . Have faith, my little one; keep up a "skookum tum-tum." Your soldier feels that he will return to claim his bride—his beautiful, glorious bride. And then we shall be so happy, my darling, that all our days to come, we will show our loving gratitude to our Father for His mercy in sparing us to each other.2
George led and survived Pickett's Charge on the third day of the Battle of Gettysburg. He was able to return to Virginia to his darling Sallie. The two were married later that year, on November 13, 1863, though Pickett's marching orders came soon thereafter and the two were separated again. He survived the war and spent the remainder of his life with her.
Unfortunately not all love stories had a happy ending. Confederate Pvt. George W. Boatright, Company E, 12th Battalion, Georgia Light Artillery, sent many profound letters to 15-year-old Martha Jane Burroughs, the object of his affection, back in Georgia. This excerpt shows George's eagerness to make Mattie a part of his future:
Your letters are always so cheering and refreshing. If I am feeling sad and gloomy they cause me to feel happy and content with my hard lot. I assure you there is nothing that affords me more pleasure than receiving and answering letters from my dear Mattie. (Excuse endearing words) though they are pure and uttered from the heart . . . Thees words are my hearts sentiments -- they are words that I have longed to speak. . . . Just imagine how happy it would make 'George' to meet with my 'dear Mattie.' I must say that you feel nearer to me than anyone I have ever met with, and to seal what I am now saying, will you consent to be my Mattie?3
Since Mattie's letters do not remain, it's unknown whether or not she ever consented to be George's Mattie. George was mortally wounded at the Battle of Monocacy on July 9, 1864. He died on July 12, and was buried in Frederick. Mattie did not marry until her fifties and went on to live to the age of 85.
1. Antietam National Battlefield, "Antietam: Letters and Diaries of Soldiers and Civilians."
2. George Edward Picket, "The Heart of a Soldier: As revealed in the intimate letters of Gen'l George E. Pickett CSA."
3. Source: Monocacy National Battlefield.
(Title image: Home from the War, Harper's Weekly, Vol. VII. Metropolitan Museum of Art. Accessed via Google Arts and Culture.)