Bugle Call
Brewer's Alley: Frederick's North Star?
February 4, 2016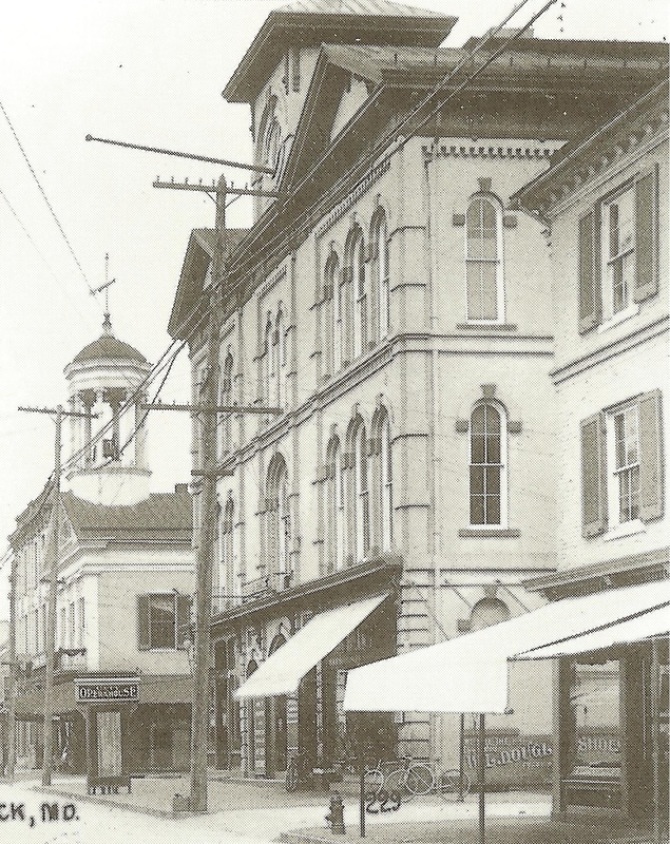 Editor's Note: This post originally appeared on the History Shark Productions blog and has been slightly modified.
Last week, my family and I took the opportunity to eat lunch with friends in downtown Frederick. It was the grand finale of the string of school snow days made possible by the incomparable superstorm Jonas. We chose to dine at Brewer's Alley, a restaurant living within a structure steeped in Frederick history and heritage. From the menu, one can note that the ownership takes pride in promoting the establishment's standing as Frederick County's first brewpub (established in 1996). This tidbit will likely be noted by future historians a century from now, I'm sure.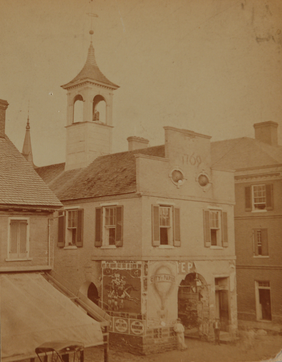 The popular eatery and watering hole is currently undergoing a major renovation project which will expand the kitchen, and downstair's main dining rooms. Interestingly, this building, and the property it sits on, is no stranger to "makeovers." It has experienced plenty of them over the past 250 years. I'm no stranger to the story of this place—one that dates back to the colonial period.
The early residents of "Frederick-Town" held a lottery to raise money to build a town hall and market house on this location. Completed in 1769, this structure served its purpose for well over 100 years and would stand witness to a rapidly growing city around its foundation. A century later in July 1864, the Market House was the site where town leaders scrambled to come up with a plan (and money) to keep Confederate General Jubal Early and his Rebel Army from doing harm to their city after levying a hefty ransom of $200,000.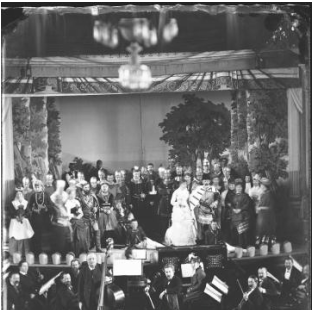 Less than a decade later, the old Market House was demolished to make room for the current building, a much more spacious home for municipal quarters on the upper floors and upgraded butcher stalls remaining on the ground floor. Construction began on the new Frederick City Hall in 1873, with plans for a unique element to be added towards the rear: a large multi-purpose room that could accommodate meeting, exhibition space and best of all, entertainment programs.
With the Civil War over, and rail transportation lines expanded, performance groups of both "high" and "low" theater extraction could now tour, literally having the ability to "take their show on the road." In time, this space would be renovated into a full-blown theater complete with balconies, opera boxes, orchestra pit and capacity for 860 persons. The City Opera House and Theater would later revert into a movie house and continue in use until the 1970's.

The commodious building on North Market Street hosted diverse events (both political and entertaining in nature, and sometimes both). These included a memorial service for President McKinley in 1901, speeches by VP-elect Teddy Roosevelt in 1900 and another by the sitting president, William H. Taft, in 1911; the Frederick debut of D.W. Griffith's film The Birth of a Nation in 1915; and the Manhattan Opera Company's production of Madame Butterfly in 1926. Of all of the noteworthy things that occurred on the property, one event has always stood out and above the rest. The time was early April of 1879.
Now back to our family lunch experience last week. One of my sons took pride in telling the rest of our table what happened that night. He recanted that the legendary Frederick Douglass actually ate here. Well, he was half right. I don't know about the dining accusation, but the renowned orator and former editor of The North Star anti-slavery newspaper presented his "Self-made Men" lecture in this building on the evening of Sunday, April 8, 1879.
The Frederick Examiner newspaper heralded Mr. Douglass' appearance and performance, describing the guest speaker as having:
"...a very attractive, musical voice of great compass, a fine and commanding and prepossessing appearance, easy and graceful delivery, and a faculty of commanding the profoundest attention from his hearers."
Since the day I first found this dusty news article, years ago, I have always been impressed with the reporter's strong character assessment toward the end of the piece:
"It was a single phenomenon that one, born and raised a slave in our own State, could by his indomitable will and earnest labor have so educated himself as to be received as a public instructor by all classes."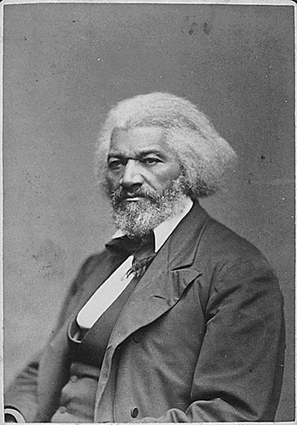 I find it fascinating to think about the life experience of Frederick Douglass (1818-1895), one that began on Maryland's Eastern Shore in bondage, and ended with overwhelming reverence and international super-stardom. Just 20 years prior to Douglass taking the stage in Frederick on that April night, another legendary freedom fighter, well-known to the speaker, went to nearby Harpers Ferry and began the war that ended slavery (1859). This was John Brown, and Douglass was well aware of his ill-fated plot since the get-go.
Frederick County boasted Unionists and Southern Sympathizers along with a population of both free and enslaved Blacks, a rare combination found in few places in the country. Soldiers of both armies marched by the former Market House site, eventually taking each other's lives on nearby battlefields.
Mr. Douglass was truly a remarkable figure in forging the history of our nation. But there's at least one thing he didn't do—and that's eat at Brewer's Alley —a location that could be argued the virtual "North Star" of Frederick by residents and tourists alike.
Next time you visit Brewer's Alley, located at 124 N. Market Street in downtown Frederick, keep in mind the famous denizens who have visited previously.
Photos, from top: Frederick's City Opera House (ca. 1904), a building that has hosted its share of "Self-made Men" over the years; the original Market House of Frederick (1769-1873), courtesy of the Historical Society of Frederick County; interior of the City Opera House (ca. 1890s); newspaper article describing Douglass' lecture from The Frederick Examiner (April 8, 1879); Frederick Douglass (1879).