Calendar of Events
Porch Program: Wet Plate Photography & Children's Sun Print Activity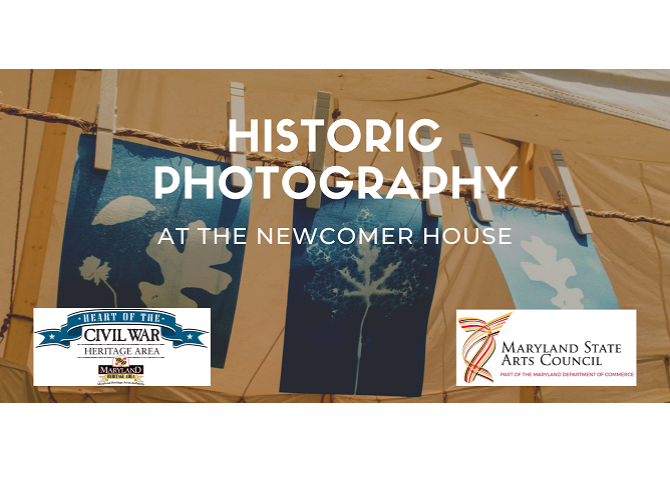 Newcomer House

18422 Shepherdstown Pike
Keedysville, MD 21756

Website
240-308-1740

John Milleker will demonstrate photography techniques of the Civil War era. A relatively new invention in the mid-19th century, photographers' images of loved ones became precious relics to those separated by Civil War. John Milleker will demonstrate wet plate photography from 11 AM to 4:30 PM on August 24 and 25, with talks at 2:00.
The public is invited to sit for and purchase their own tintypes on a walk-in basis. Tintypes are priced $55 and up based on size. Sessions are 20 minutes long and the process to complete the plate takes approximately one hour. Those who purchase portraits will receive instructions on how to safely digitize their images to share online.
Special program for children ages 5-15: Make your own Cyanotype, also known as a sun print, to take home with Alternative Process instructors Christine and John Milleker. This beautiful blue photogram process was invented by Sir John Herschel in 1842 and is still a medium of choice by many artists today. These hands-on sessions will be held at the Newcomer House on Saturday and Sunday August 24th and 25th at 11:00 AM. Cyanotype prints will take up to an hour to develop, at which point they will be ready to take home. Space is limited so please pre-register on Eventbrite or our Facebook event!
This program is supported in part by a Maryland State Arts Council Creativity Grant.