Calendar of Events
Civil War Church Service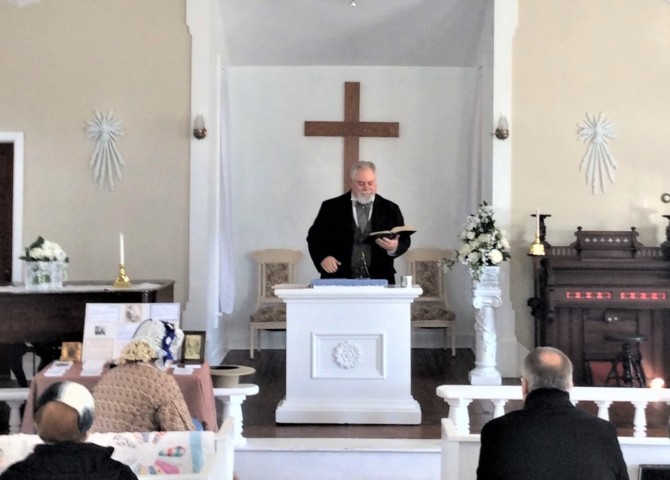 Historic Rocky Springs Chapel

7817 Rocky Springs Road
Frederick, MD 21702

Website
240-439-4235

Attend a Civil War-style, nondenominational church service at Historic Rocky Springs Chapel on Sunday, July 28, 2019, beginning at 1:00 P.M.
The service will be conducted by Preacher Kirk Callison wearing Civil War period attire (most sermons preached at Historic Rocky Springs Chapel were originally delivered between 1861-1865).
Preacher Callison is a member of the Historic Rocky Springs Chapel, Inc. (HRSC) Board of Trustees and the nonprofit organization Re-enactor's Missions for Jesus Christ. Miss Hannah Boley will play the chapel's antique 1909 upright piano for the service and worshipers will sing hymns that were popular during the American Civil War.
Immediately after the service HRSC Trustee Debby Moone will give a presentation on the skirmish that occurred near Rocky Springs School House on July 8, 1864, between the 8th Illinois Cavalry (Union) and the 1st and 2nd Maryland Cavalry (Confederate), which is the subject of a Civil War Trails marker on the grounds of the c. 1839 school house, located next door to Rocky Springs Chapel.
HRSC is dedicated to using living history programs to accurately educate the public on historical Christian practices and the impact of faith on American society during the Civil War. The wearing of Civil War period attire to the church service and living history program is encouraged (but not required). Everyone is welcome to attend! Call or email HRSC at (240) 439-4235 or debbymoone@gmail.com for more information.