Calendar of Events
Civil War Meeting and Talk on Robert E. Lee's famous Special Order 191, the Lost Order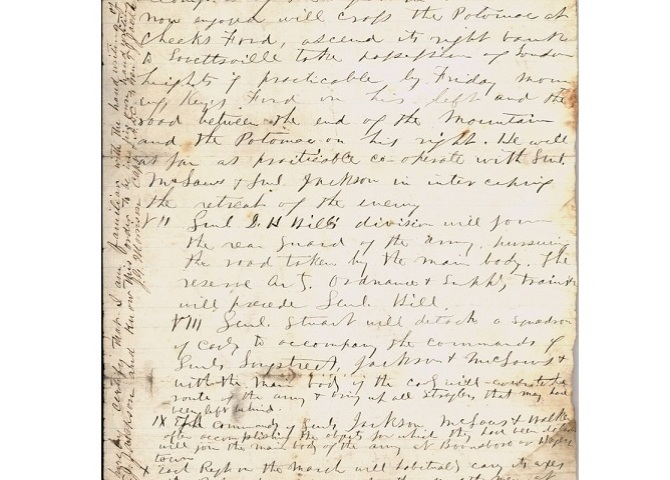 Homewood Suites

1650 Pullman Lane
Hagerstown, MD 21740

Website
301-766-9516
$
The Hagerstown Civil War Round Table will be featuring a talk on Robert E. Lee's famous Special Order 191, the Lost Order, by Tom Clemens.
Robert E. Lee issued Special Order 191 during the Maryland campaign, before the Battle of Antietam. A copy of the order having been lost, was recovered by Union soldiers of the 27th Indiana on the Best Farm near Frederick, Maryland. The order provided the Union Army with valuable information concerning the Army of Northern Virginia's movements and campaign plans. Upon receiving Lee's "Lost Order", Maj. Gen. George B. McClellan, leading the Union Army of the Potomac, would exclaim "Here is a paper with which, if I cannot whip Bobby Lee, I will be willing to go home." The practical value of this intelligence, which was quickly growing obsolescent, continues to be the subject of much debate.
The event is at 7:30 pm on Thursday, January 24, 2019 at Homewood Suites, 1650 Pullman Lane Hagerstown, MD. Dinner at 6:30 pm, open to non-members as well as members, is $22 (reservations required) and the talk at 7:30 pm is $5 for non-members, both payable at the meeting.
For more information visit https://sites.google.com/view/hagerstowncwrt/home, search for: Hagerstown Civil War Round Table, email hagerstowncwrt@gmail.com, or call Dennis Graham at 301 766 9516.
Dr. Tom Clemens is a history professor emeritus at Hagerstown Community College and a longtime NPS volunteer interpreter and living history presenter. He is a founding member of Save Historic Antietam Foundation, has been its President since 1989, and is eternally grateful for the generosity and dedication of our members. He is the editor of Ezra Carman's The Maryland Campaign of September, 1862: Volume I, South Mountain, Volume II, Antietam, and Volume III, Shepherdstown Ford and the End of the Campaign. Mr. Clemens earned his doctoral degree at George Mason University, where he studied under Maryland Campaign historian Dr. Joseph L. Harsh. He has published a wide variety of magazine articles and book reviews, has appeared in several documentary programs, and is a licensed tour guide at Antietam National Battlefield.